The bar is in a strategic area of the metropolis, in the corner between two main boulevards. The first one, Boulevard Zarktouni links directly to the ocean passing by the Twin Towers, while the second, Ziraoui, connects to Centre Ville and Hassan II mosque. Furthermore, the place stands by several offices, luxury hotels and high-quality shops such as Maserati and Alfa Romeo showrooms. This is why this area is called the Golden Triangle.
For these reasons, the intervention attempts to increase the building's qualities, in order to make it consistent with a growing and transforming zone, one of the most luxurious of Casablanca.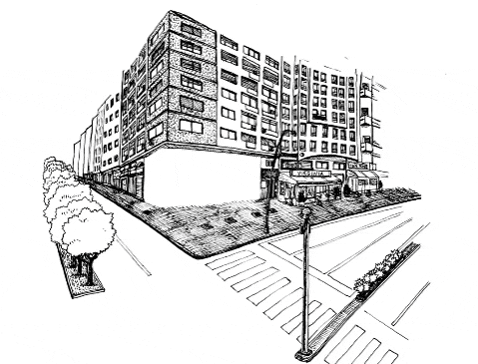 Interior view, double height space:
Concept:
The requalification project is based on the implementation of a golden element with a brass cladding, which bends a few times into the bar to provide different uses. Its continuity in the two levels of the bar allows generating a homogeneous environment. 
+
The furniture is made of a classical table with chair arrangement, counter with a barstool, low sit with a desk. This disposition makes the interior space more flexible. On the upper level, the area towards the Boulevard Ziraoui is closed, the toilet area is optimized with an anteroom, and the new counter with a street view.
In the short side of the corner, the double height is maintained in order to make the inner space brighter and roomier, and open it towards the boulevard.
Plan 0:
Interior view, ground floor:
Plan +1:
Interior view floor +1:
The golden volumes bends several times, providing continuity between the two levels and changing their use.
Longitudinal section:
Cross section:
Golden, white and black are the only colors used, with two tones of grey. 
Furniture is rational and simple, in order to fit the design choices, thus the elements are made in a trasparent and white materials to create harmony with the inner space.
The inside is conceived as a combination of few elements, mainly defined by the golden shape meant to recall muslim traditional brass manufacturing and to be a metaphor for the area of the Golden Triangle. All the other elements are kept as pure and rough as possible, enhancing their material to make it essential and elegant.